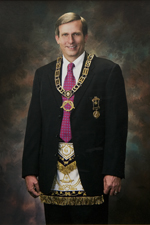 Harley Jasper Dozier was born in Vicksburg, Mississippi on September 29, 1952 to Marvin J. and Dora Dozier. He attended Jackson Public Schools and Hinds Community College where afterwards, he entered the United States Air Force. After his military service, M.W. Brother Dozier was an employee in Plant Operations with Entergy Corporation in Jackson, Mississippi for over 30 years.
M.W. Brother Dozier was raised to the Sublime Degree of Master Mason on August 19, 1986 at Hinds No. 628 in Raymond, Mississippi, where he maintained his membership until his passing. He was a Past Master of Hinds No. 628 and served the 20th Masonic District as a 10-year District Deputy Grand Lecturer, where he was awarded the Watt Carter Trophy for the Outstanding District Deputy of the Year. He served the Grand Lodge of Mississippi as Junior Grand Warden in 2002, Senior Grand Warden in 2003 and finally as Grand Master in 2004.
M.W. Brother Dozier was active in the York Rite, where he served as High Priest of Forest Hill Chapter No. 156 in 1991 and a member of Jackson Council No. 5, Royal and Select Masters and Mississippi Commandery No. 1, Knights Templar. He was also active with the York Rite Degree Team, the York Rite College, the Knight Masons and the Red Cross of Constantine.
He was a proud member of the Scottish Rite as well, where he served on the Scottish Rite Degree Team and was awarded the distinction of Knight Commander Court of Honor. His other Masonic affiliations included the Order of the Eastern Star, the DeMolay Legion of Honor and the Shriners.
M.W. Brother Dozier died Sunday, November 11, 2012 at Central Mississippi Medical Center in Jackson and funeral services were held on November 13, with internment in the Raymond City Cemetery. M.W. Brother Dozier was preceded in death by his parents, Marvin and Dora Dozier; grandsons, Elijah and Luke Dozier; brother, James Dozier; and sister, Betty Robertson. He is survived by his wife of 38 years, Gwen of Raymond; son, Jim Dozier (Shannon) of Mize; daughter, Shannon Coker (Gerald) of Ridgeland; grandson, Jackson Dozier; brother, Tommy Dozier of Pineville, LA; sisters, Loraine Williams (Tommy) of Pineville, LA, Georgia McCardle (Harold) of Lavergne, TN, Laverne Treadway (Allen) of Terry, Linda Clark (Ronnie) of Florence, and Wanda Floyd (Richard) of Brandon; and numerous nieces and nephews.