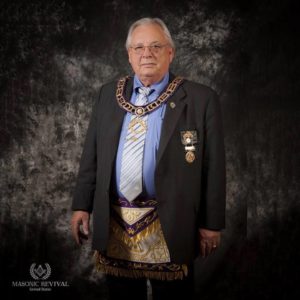 Most Worshipful Brother Myron Ware, Past Grand Master of Masons in Mississippi, was called to the Celestial Lodge June 6, 2016.
Brother Ware was Initiated April 29, 1967, Passed  June 24, 1967, and Raised  in Willis Lodge #92, July 29, 1967.  An exemplary Mason, he was elected by his brothers to serve as Grand Master for the year 2012-2013.  For many years he  worked with Brother Van A. Evans conferring the Past Master's Degree during the annual Grand Lodge Communication.
An active Mason, he held current memberships were at   Museum Watt Carter Lodge  #636,  Tyrian Lodge #427,  and John P. Byrd #629.  Brother Myron was also a charter member of Mississippi Lodge of Research #640.
He was a member of the Scottish Rite Valley of Jackson and the following York Rite bodies:  Jackson Chapter #6,  Jackson Council #5 and Mississippi Commandery #1.
Funeral Services will be held Thursday at 12 Noon at:
Baldwin Lee Funeral Home
3780 Hwy 80 E.
Pearl, MS.
Interment to follow at Floral Hills in Pearl.
NO Masonic Service
Visitation is Thursday morning 9-12 at the Funeral Home.